"Secrets of the Siddhas is not only an extraordinary spiritual lecture, it is the most powerful spiritual talk and inspirational presentation we have encountered in forty years of spiritual seeking. We highly recommend that everyone interested in spirituality and enlightenment attend Secrets of the Siddhas to hear this beautiful message given by Gonga and Tara."

– Neil J. Carman, Ph.D. and Elizabeth Carman
coauthors of "Cosmic Cradle, Souls Waiting in the Wings for Birth"
Austin, Texas
Secrets of the Siddhas: Health, Longevity and Enlightenment
NORTH AMERICAN TOUR 2010
June – December
We're happy to announce that we have returned to America from India for the first time in 4 years. We will spend 3 months traveling from coast to coast, sharing what we've learned and experienced in India.
Over the past 4 years that we've spent in India, we've explored the depths of Indian spirituality, met incredibly beautiful souls, experienced amazing miracles and taken thousands of photographs. As each year passed, more and more inner doors opened to reveal many mysteries. The culmination of this spiritual adventure was attending the Kumbha Mela in Haridwar last month. We want to share these photos and profound experiences with all of you.
What we will be presenting is totally universal, non-sectarian, non-dogmatic and not limited to any one teacher or spiritual path. It is for everyone whether they are a Buddhist, Hindu, Christian, Taoist or Na'vi. If you are a Tibetan Buddhist, then what we are presenting will be of interest to you. Many of the Tibetan Buddhist lineages trace back to the Indian Mahasiddhas Tilopa and Naropa. But what we are teaching is not Hindu or Buddhist. It is the universal essential truths behind all religions and the source of all spiritual paths.
Tara and I want to share with all of you the distillation of our 40 years on the spiritual path. We will be sharing the universal spiritual truths that will enhance anyone's life by evolving consciousness and attaining Self-realization. There are many fascinating stories about great Siddha Saints that we want to share with you and each has a practical message to assist you in your life.
On top of that, we brought back from India sacred substances and holy objects to share their transformative energy with you.
We plan to spend a month on the West Coast teaching from Vancouver to Seattle, Portland, Ashland, the Bay area, Ojai, Los Angeles and San Diego. Then we'll travel east going to Sedona, Sante Fe, Taos, Denver, Boulder and Fort Collins, Colorado. After that we'll travel eastward, by way of Fairfield, Iowa and Chicago and then teach on the East Coast in Boston, New York, Atlanta, Miami and the Virgin Islands.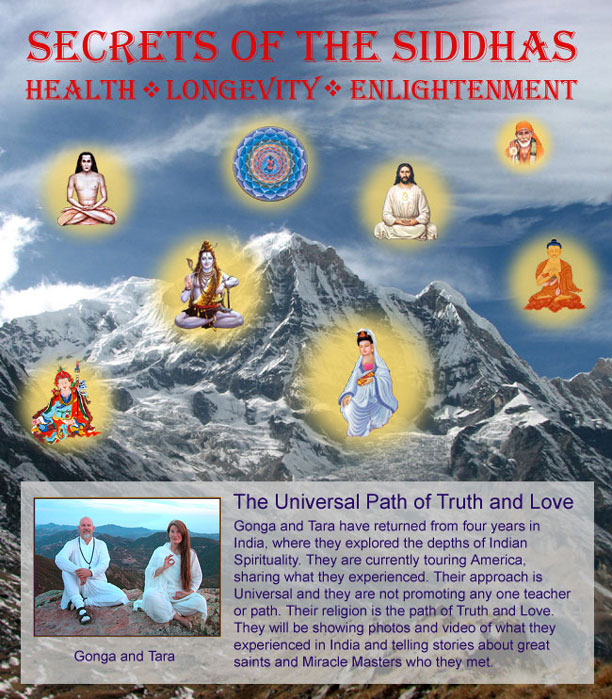 Event locations for the "Secrets of the Siddhas" presentation.
If you live near one of these locations and know of a venue you would like to suggest, please contact us.
The name of the presentation that we will be offering is "The Secrets of the Siddhas – Health, Longevity and Enlightenment." We will offer this either in private or public settings. You can invite friends over to your house or attend a public lecture. We guarantee that the material that we will be sharing will interest and even amaze whoever attends. For us this is a very serious activity that we are committed to. We take spiritual development very seriously and don't want to waste anyone's time. Our aim is to expand your horizons, provide valuable information and inspire you to attain Self-realization in this lifetime. Whatever teacher or path you choose to follow is up to you. We merely want to inspire you to attain the highest you are capable of.
We believe that westerners have only began to scratch the surface of the spiritual treasures that India possesses. India is the keeper of the knowledge of spiritual evolution for the entire world. While yoga has proliferated in the west, the coming years will see a deepening of westerner's understanding of the inner depths of the spiritual development. We are living in a truly exciting time when the modern advances of science and technology will come together with the ancient wisdom of development of consciousness to create a golden age for mankind.
Don't be discouraged if your spiritual practice has leveled and don't be dismayed by the changes that are taking place in the world. The old is passing away and a new dawn is coming. We are happy to share with all of you exciting and inspiring news so that we all can be co-creators of the coming Golden Age.
We're planning our schedule now and would be happy to hear if you would like us to come to your area.
We are also extremely happy to announce that all the presentations will be offered on a voluntary donation basis. This is in keeping with the ancient Vedic principle that neither knowledge or health should be sold for money. We feel that spirituality should not be turned into a business and that no one should have to pay for it. Therefore, all our initial presentations will be offered free of charge. If you'd like to assist in the bringing of this profound knowledge to others, you may make a voluntary contribution that will be used for traveling expenses, hall rentals and printing of materials. Following the initial presentation, we will offer over the next few days several workshops, some for free and some at a nominal charge.
Our only desire is to bring the most profound spiritual teachings to those who are interested.
Our experience has been that it was due to the seva (selfless service) that we performed for many teachers over the years that spiritual doors opened before us and blessings flowed. We invite all of you to participate in what is going to be an important transformation.
If you would like to assist in this endeavor, feel free to suggest a venue in your area. If you attend a yoga studio, or are part of a spiritual or healing group, we'd be happy to offer our presentation to your group. Or, if you 'd like to invite your friends to a living room lecture, that's great too. We will be overjoyed to see you and spend time discussing the most important topics facing each person on earth. The saints and sages tell us that our purpose in incarnating is to attain Enlightenment and God-realization and that when that is achieved all the questions are answered and all problems cease. Let's sit together in the Light of God and become spiritual luminaries radiating that Light to all.
In Love and Light,
Gonga and Tara