Within a few hours of waking up, on our first morning in Bangkok, we had an experience that we'll never forget. We woke up hungry, having skipped dinner the night before. Our first thought was to find one of the vegetarian restaurants that we'd seen recommended in The Lonely Planet City Guide to Bangkok. It wasn't hard. Within minutes, we discovered in the guide a restaurant that was located just a short walk from the Wild Orchid Guest house. We took a quick shower, threw on our clothes and headed off in search of delicious vegetarian Thai food at economical prices.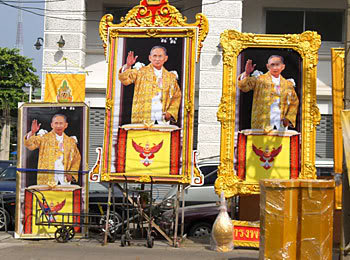 Tara and I walked in the direction of the restaurant, cutting through neighborhoods via narrow streets and back alleys. One of the things we noticed right away was that there were pictures of the King of Thailand everywhere. The Thai people love their king tremendously and celebrate his birthday each year in a grand way.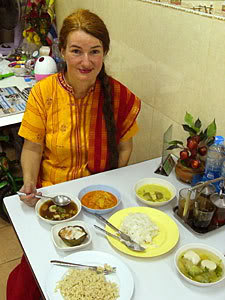 After about an hour of exploring, we arrived at our destination, a modest restaurant called Awawy. When I say modest, I mean really modest. You'd never go to Awawy for the décor, and ambience is not a word that comes to mind, but the Lonely Planet said that it was one of Bangkok's best vegetarian restaurants and they were right. The food was delicious but that wasn't what we'll remember most about our experience there.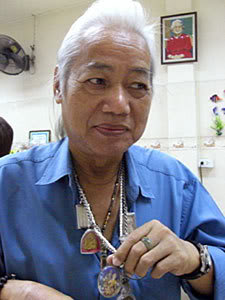 Half-way through feasting on several delectable dishes, that cost a total of $4 for the both of us, Tara noticed an interesting man enter the restaurant and sit at the table behind me. He was a striking older Thai man with a long white ponytail and a radiant face. Around his neck he wore many amulets, Buddhist medallions that are popular in Thailand. As we were about to finish our meal, I turned and said hello to the stranger. He smiled warmly, pointed to our clothes, and asked, "India?" We nodded in agreement. What then commenced was something that we had never experienced before. For the next hour we enjoyed a conversation with this stranger that consisted totally of mantras and the names of spiritual masters, gods and goddesses. It went something like this…
the stranger: "India?"
Gonga: Om Nama Shivaya
the stranger: "Shiva, Parvati"
Gonga: "Shiva, Shakti"
the stranger: showing us an amulet of Buddha
Tara: Om Mani Padme Hum
the stranger: Padmasambhava
Gonga: Vajra Padma Siddhi Hung
the stranger: Siddhi, Siddha, Maha Siddha
Gonga: giving him a photo of Shirdi Sai Baba…
"Shirdi Sai Baba, Siddha, guru"
the stranger: "Ah guru, Guru Shiva."
Gonga: "Guru Brahma, Guru Vishnu, Guru Devo Maheshvara"
the stranger: "Vishnu, Krishna, Mahesh, Shiva"
Gonga: Na Ma Si Va Ya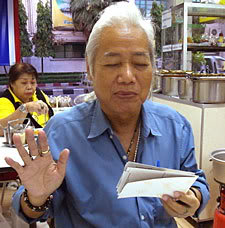 The conversation went on like this between people who shared no common language but the spiritual language of mantra and the names of divine souls. As we went back and forth, we felt a bond of recognition with this kindred spirit who we'll probably never see again. We shared an awareness of spiritual realities and could tell by his familiarity with them that they were as important to him as they were to us. At the end of the conversation, we bowed to each other, smiled and went our separate ways. There was no need to exchange addresses. We knew where each of us lived.