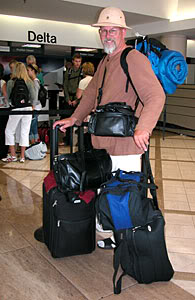 We're in India after flying from LA, to Atlanta, to Paris, to Bombay, to Bangalore. We left Los Angeles early Monday morning with as much as we could squeeze into two backpacks and two small suitcases each. We traveled light, figuring that we really didn't need much and whatever else we might need we could buy for far less in India.
Four flights in two days was a lot of flying and it took us over parts of the world that we'd never been before, like the Middle East. We passed through Paris but only saw the inside of the airport. We arrived in Mumbai (Bombay) at 1:00 am and decided to try to get on the next flight out of Bombay rather than spend the night in a hotel. The next available flight was at 6:20 in the morning, so we took a taxi over to the new domestic airport and tried to catch some sleep before our flight in the morning. The domestic airport was very modern and practically empty. We boarded the flight to Bangalore, extremely happy to be on our final flight to our destination.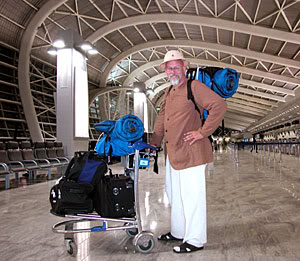 We noticed on the flight, which was our first inside India, that everyone was very quiet. The flight attendants were extremely refined and actually looked like someone had cast them to play the role of Indian gods and goddesses. Their faces of both the men and women were sublimly beautiful with extremely refined features.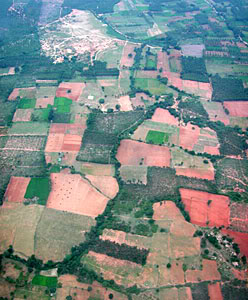 As we approached Bangalore and descended below the clouds, we got our first view of the lush green countryside around Bangalore. Agriculture is the occupation of 80 percent of the population of Karnataka state. Crops abound in rice, millet, cashews, cardamom, betel nut, and grapes as well as coffee and tea.
The nearer we got to landing, we saw evidence of Bangalore's growth and booming high tech industry. High rise building were springing up surrounding the city.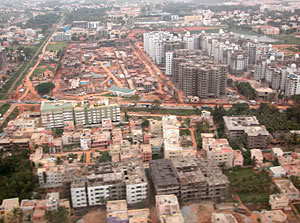 In the last decade, Bangalore has transformed itself into the "Silicon Valley" of India. From a mere 13 software companies in 1991-92, the number of software companies increased to 938 by August 2001. Some of the reasons for this growth are the pleasant climate, the talent pool of highly trained professionals, and progressive Government policies. Over the last few years, many of the largest high tech companies in America, like Intel and Oracle have been investing billions of dollars in Bangalore.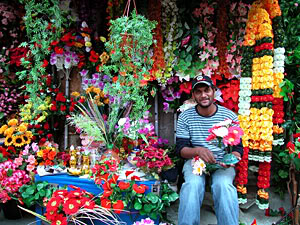 Arriving in India is of course a culture shock. All the sights, sounds, aromas and flavors of Indian life assault and seduce the senses. It's easy to get caught up in the bustle of life – the continual flux of perhaps the oldest culture on earth. It's easy to be distracted by the cacauphony of motor bikes and cars all honking to make their way through the teeming throng of humanity.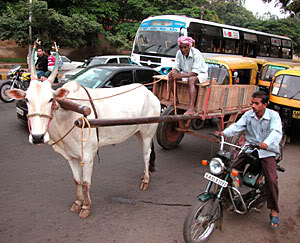 It's a land where bullock carts wait at traffic lights next to young men on motorbikes on their way to jobs at call centers. While China has been considered the next rising superpower, India is believed by many to have a greater chance due to it's being a democracy and largely English speaking.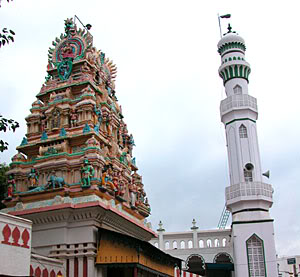 Another advantage is that India is a culturally diverse and by-and-large extremely tolerant society where Muslims, Hindus, Christians and Jains live together and it is not uncommon to see a temple and a mosque existing side by side.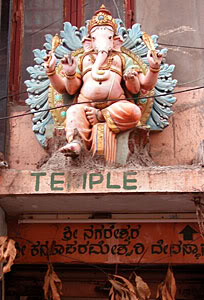 It's a land of stark contrasts, where ancient motifs remain within the rapid modernization that is sweeping India out of the third world. Everywhere you go, you see images evoking India's spiritual heritage. Shines to Ganesha, the Remover of Obstacles are as common as Starbucks in America.
It's easy to get swept up in the dizzing exotic dance of Mother India. She enchants you with her exotic beauty; the vibrant colors of her saris, the seductive sway of her body, the excitement of her ever-shifting nature and the charm of her personality.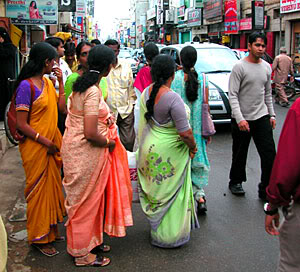 But, we're here for a deeper purpose, to penetrate into the soul of India and imbibe it's rich spiritual heritage. This is what makes India truly unique. The spiritual currents run so deep in India that they permeate the very fabric of life like no other country in the world.
This is the land of rishis, yogis, sadhus and siddhas who have kept the lamp of spiritual wisdom burning for all the world. The ancient wisdom of scientific techniques to develop consciousness to it's full potential have beeen preserved here for the benefit of all of humanity.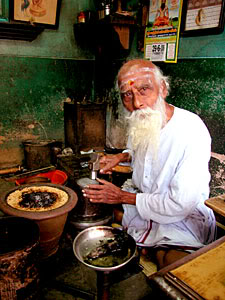 While taking a walk in the side streets of Bangalore today, we spied in the shadows of a small stall, a divine personage working at his craft. His being radiated peace and wisdom shown in his eyes. After asking if we could take his picture, he raised his hands in pranam (blessing) and chanted a prayer to God. We replied, "Hari Om. Om Sai. Sri Sai. Jai Jai Sai. Om Tat Sat. We spoke a universal language and in that moment two Americans and an Indian swami were united in a divine emotion that is both ancient and totally modern for it is beyond time, yet exists throughout time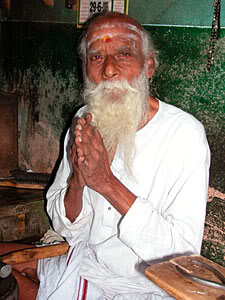 We're extremely happy and excited to be here. It's a dream come true. We've been drawn to India very strongly for the past two years. I think it began when we learned Babaji Kundalini Kriya meditation from Yogiraj Gurunath Siddhanath. After that, we sort of switched tracks from a Tibetan/Chinese (primarily Buddhist) orientation to a more Indian yogic view. Not that they are exclusive of each other. After all, Buddhism began in India. We see all the world's spiritual traditions in the Light of the Universal Truth. In fact, it's clear to us that all of our teachers, in this and past lifetimes, have led us to this point. It's like all their teachings validate each other and are converging on the same essential Truth. Now, it feels like we're viewing that Universal Truth through the lens of the Indian yogic Siddha tradition.
We feel a great responsibility to make full use of this time in India so that we can grow to our maximum spiritual potential and be of greater service to God and humanity.
Om Tat Sat
Bangalore, India