Back in India, when we were studying the Lonely Planet City Guide, looking for low-priced things to do in Bangkok, we learned about the Amulet Market. After enjoying our first, of several, delicious meals in Thailand, we decided to find the Amulet Market and check it out.
We took the water taxi, which only cost 25 cents, got off at the next stop, walked one block, and there we were at the Amulet Market. It's about three blocks of sidewalk vendors, plus a few stores that specializes in amulets. Amulets are very popular in Thailand. They are small metal medallions, usually with a picture of a famous Thai Buddhist master on one side and some writing on the other. They range in size from about a half inch to a few inches long and there are thousands of them. There are even entire magazines that specialize in the amulet market. Some amulets very old, rare and expensive but most are extremely inexpensive. The majority of amulets cost anywhere from 25 cents to a few dollars, so it fit our budget perfectly.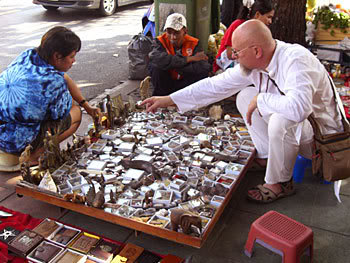 It's a lot of fun shopping for amulets. Tara and I spent 3 hours making our way down the street, stopping at each vendor, examining their amulets, and ended up spending about five dollars. We picked through hundreds of amulets to find one or two special ones that caught our eye and then bargained like crazy. The vendor's initial asking price is usually at least ten times what they're willing to accept. If the vendor wouldn't come down substantially, we'd move on in search of better bargains and then return later to often get the deal we wanted.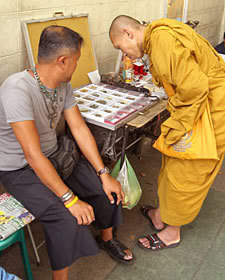 The street is full of amulet hunters. Many Buddhist monks are there as well, dressed in their saffron robes, They huddle around the vendor's tables, inspecting the amulets with magnifying glasses.
Most of the amulets, commemorate masters of the Thai Forest Monk tradition. The forest monks of Thailand are an interesting spiritual tradition. They believe in living like Buddha did, so they tend to avoid monasteries, preferring to live a very simple life in the forest. They usually wander, living in caves, eating whatever is available. It's a very challenging lifestyle, since the jungle is full of dangerous animals like tigers and snakes, so living like that requires overcoming all fear.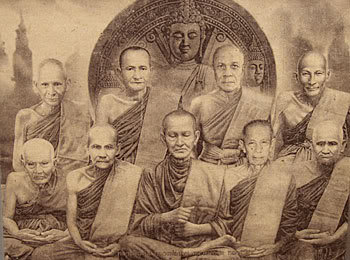 The most famous of these forest monks were great masters who led very pure lives and performed many miracles. For this reason they are greatly loved by the Thai people. Hence the amulets. It's a way of remembering the purity of these masters, connecting with them and continuing to receive their blessings. As one man said, who walked up to me in the amulet market, wearing many amulets around his neck, "Buddhas have power."
Tara and I were familiar with one of these Thai forest masters because of a Thai man that we knew in Portland, Oregon. He was the owner of a Thai restaurant and had been a forest monk earlier in his life. He told us that he was only going to run his restaurant for another few years and then, when he had enough money to take care of his family, he was going to go back to Thailand in order to spend the rest of his life as a forest monk. He was an incredibly joyful man who radiated incredible positive energy. He was also extremely generous and fed the poor children in the neighborhood each day. When Tara and I were serving our Tibetan teacher, Khenpo Choga Rimpoche, we often didn't have money for food. While putting up posters in Portland, we'd stop by his restaurant to ask if we could put up a poster and he'd invariably offer to give us a free lunch or dinner. He'd always say that what really mattered was serving the spiritual masters and, because we were serving our master, he insisted on feeding us. We were incredibly grateful to him for his extremely kind heart and generous spirit.
The first time that we were in the restaurant, we noticed a striking three-foot tall photo of an elderly Buddhist monk, who was wrapped in a saffron cloth and carried only a staff and water pot. When we asked who it was, he said that it was his master and that he had traveled in the forest between Burma, Thailand and Cambodia but lived mostly in a cave in Burma. He said that his master had left the body years ago but had recently reincarnated. When Tara and I realized that we were going on our visa jump to Thailand, we tried contacting our Thai friend in Portland but there was no answer at the restaurant. It seems that, as he predicted, he may have returned to Thailand to resume his life as a forest monk. We send him blessings of light and love and our thanks for helping us when we needed assistance. If he is wandering in the forest now, may the Divine bless and care for him as he cared for us.