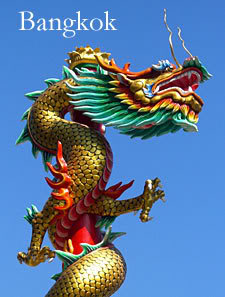 One of the challenges of spending time in India for an extended duration is how to fulfill the requirement of the Indian government that tourists do not stay in the country for longer than six months. The solution is to take a vacation to somewhere nearby like Nepal, Sri Lanka, Singapore or Thailand and then return to India. Our only problem was we had no money to fly anywhere. We were living totally on donations from friends and those donations only averaged to be about $60 a month. $30 for Tara and $30 for me. If we didn't make a "Visa Jump" we'd have to leave India and use our return ticket to fly to America. The only solution was to beg. Many spiritual teachers, including Buddha, have taught their disciples to beg as a way to overcome one's ego and pride. As westerners, we especially have a resistance to begging but we had to let go of our pride and go ahead and beg. Many people responded, some with small donations and some with larger. The beauty was that we discovered how much love people felt for us and how happy they were to assist us in our spiritual pilgrimage in India.
After receiving the money that we needed for our airplane tickets and some extra money for hotels, we booked the cheapest flight we could to Bangkok and made reservations for three nights at an inexpensive guesthouse in the Kho San Road area of Bangkok. Before we left the ashram, our friends who had gone to Thailand already had started to return, looking tanned and exhilarated from two weeks of lounging on beaches and scuba diving. Many of them warned us to stay only one night in Bangkok because of how over-crowded and polluted it was and recommended departing the next morning for the islands and beautiful beaches further south. Unfortunately, we couldn't afford the added expense of traveling to a tropical island so we decided to stay in Bangkok and make the best of it. We weren't really there for a vacation. Our purpose was to make our visa jump and we were grateful to even have a few days in Bangkok. Our friends had also warned us that it was hard to find vegetarian food since most of the Thai restaurants cook with meat. Before leaving for Thailand, I obtained a Lonely Planet Guide and discovered several highly recommended low cost vegetarian restaurants. More on that later.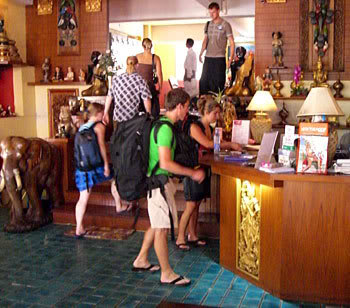 Arriving at the Bangkok airport is quite an eye-opener. You definitely know that you aren't in India anymore. The airport is new, super modern and is the largest airport in South East Asia. We caught a cab to the Kho San Road area and checked into the Wild Orchid Guesthouse, a haven for young back-packers from around the world. We loved staying there. The room, which cost $12 a night, was clean with air conditioning and the bathroom was western-style with a shower. The Wild Orchid has an open-air lobby and was decorated in a Thai Buddhist motif. Backpackers poured in, at all hours of the day and night fresh … well, maybe not so fresh … from the airport. Over the next few days, while sitting in the lounge, sipping a Thai iced tea, I'd often fantasize that I could write a novel about the scene at the Wild Orchid.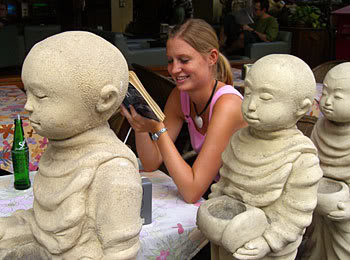 The Kho San Road area sprung up at a time when there was a shortage of hotels in Bangkok. Enterprising Thai people opened up their houses to young backpackers and the guesthouse phenomenon was born. Now, there are hundreds of guesthouses in the Kho San Road area, ranging in size from a few rooms to moderate size hotels. We stayed at the Wild Orchid Guesthouse for the first two nights and then switched to the Shambara Guesthouse for our last night in Bangkok. The Shambara was highly recommended by friends who had just stayed there on their visa jump and was also $12 per night. The Shambara is a small family run guesthouse with only six bedrooms and a common bathroom. It was quiet and charming with beautiful fish pools that Tara loved butI preferred the Wild Orchid because of its large lounge and more social scene.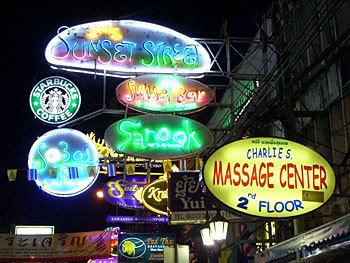 The main stretch of Kho San Road is packed with tourist traps, tricket shops, bars and massage salons but the area surrounding the main strip is much quieter. Another great thing about staying in the Kho San Road area is the abundance of excellent internet cafes.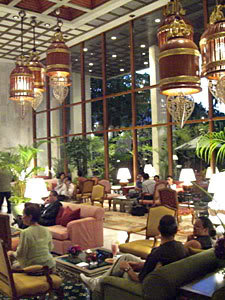 If someone was traveling to Bangkok and didn't want to stay in a super inexpensive guesthouse like we did, I'd recommend staying at the 124-year-old Oriental Hotel. The Oriental is one of Bangkok's most luxurious hotels and it's also one of the most famous hotels in Asia. Located on the edge of the river, it was frequented by famous authors like Joseph Conrad, W. Somerset Maugham, John le Carre and James Michener. We didn't stay there, although we would have loved to, but we did eat appetizers at the elegant riverside restaurant and it's an experience not to miss. The Oriental operates another restaurant across the river so a ferry takes customers back and forth. A stay at the Oriental would be something you'd never forget.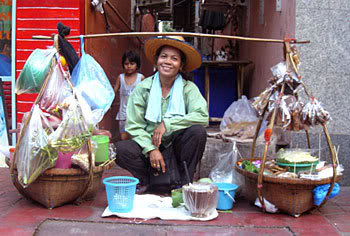 We had an absolutely fantastic time in Bangkok and would highly recommend it to anyone. We especially loved the Buddhist influence on Thai culture. The people were very warm and polite. The following posts will be a series of our favorite experiences in Bangkok with some sightseeing recommendations in case you ever decide to go there. Oh, and by the way, the flowers in Thailand are amazing.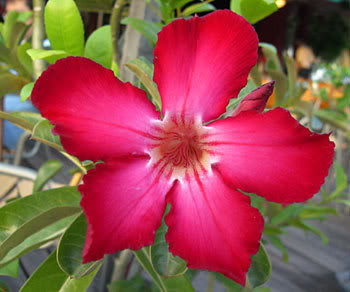 At this point, we have no idea how we're going to solve our next visa jump challenge, they come every six months, but another quick trip to Bangkok is a possibility, as is using our return tickets to the United States. If we return to the States for our next visa jump, we'll plan on teaching some workshops in order to start sharing what we've learned in India.