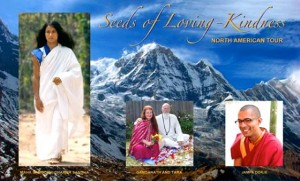 Seeds of Loving-Kindness
Sunday November 3rd
4pm -7pm
Samadhi Center
for Yoga and Meditation
Uptown Square
639 East 19th Ave, Denver 80203
(between Pearl and Washington)
303.860.YOGA
This event is free. It is a gift of love
Ganga and Tara have lived in India for seven years. For the last four years, they have traveled around the world sharing a multimedia presentation called "Secrets of the Siddhas," in which they tell inspiring stories about some of the greatest saints from various traditions. Ganga and Tara have shared "Secrets of the Siddhas" over 350 times around the world.
This year they have included Jampa Dorje in the presentation, he recently returned from spending more than two years in the jungle of Nepal with Maha Sambodhi Dharma Sangha.
Dharma Sangha is the young man who the media called "Buddha Boy" when he meditated under a tree in Nepal for six years. After 10 months of not eating or drinking and sitting in one position he gained worldwide attention. At present, between 2 and 3 million people have visited him in the jungle of Nepal. His profound Universal message is non-sectarian and encompasses all religions. Jampa Dorje will share some inspiring stories of his journey, experiences and teachings with Dharma Sangha.
The intention of the Seeds of Loving-Kindness Tour is to awaken Loving-Kindness in the hearts of everyone in the World.
"Ganga & Tara are master story-tellers… like the ancient teachers, their stories weave a beautiful tapestry of deep understanding borne of direct experiences among many great Souls of India and Tibet. My own deep love of Mother India was further ignited by their passion, their prose and their amazing pictures. Yet at a deeper level, their message of consciousness raising is so relevant today… theirs is a presentation that all should dive deeply into!" ~ Casey Hughes, Encinitas, CA
Maitri Mangalam ~ May all beings be loving and peaceful.
more information at:                http://www.facebook.com/seedsoflovingkindness
or Email:   seedsoflovingkindness@gmail.com
Our spiritual approach is Universal and all-inclusive we are not promoting any one religion, teacher or path.