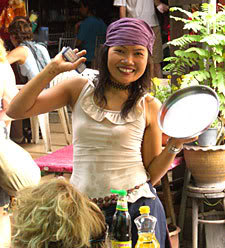 For us, probably our most memorable experience in Bangkok was dining at Mai Kaidee's vegetarian restaurant. Seriously, we've come to the conclusion that Thai food is our number one favorite of all the food in the world. Thanks again to the Lonely Planet city guide to Bangkok, we discovered that Mai Kaidee's was literally no more than a one-minute walk from our guesthouse. We slipped through an alley, crossed the street, ducked down another alley, turned the corner and there it was. Mai Kaidee's has to be experienced to be believed. It's not indoors. It's an open-air restaurant in a narrow side street not much wider than an alley but the food is out of this world. Mai, a delightfully energetic and joyful Thai woman, has run the restaurant for years and offers cooking lessons as well.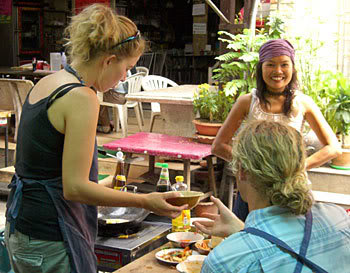 Cooking Classes are offered by Mai on a personal basis. Average courses run for three days. The cost depends on the number of students, duration of classes, and on the dishes you wish to learn. Students may choose 10 dishes that they would like to learn to cook per day. All food supplies are included.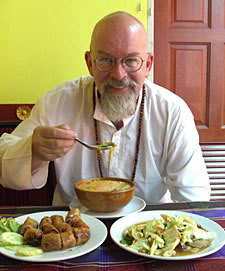 Tara and I found one of the few empty tables and started selecting dishes from the menu. When the food arrived, we'd never tasted Thai food this good. The more we ate, the better it tasted. The soup was the best I've ever tasted and the curries were out of this world. The better it tasted, the more we ate. I kept thinking that I wished all our friends back at home could taste this amazing Thai food.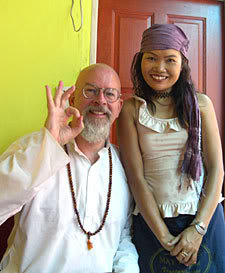 Finally, unable to eat any more, we started talking with Mai, who is incredibly joyful and exuberiant. She showed us her photo album that included photos of her trip to Moscow where she gave a taught a workshop in learning to cook Thai food at a top hotel. If you ever want to hire an incredible Thai cook to come give you private lessons, contact Mai. She's a sweetheart and you'll love her cooking.
As we waited for the bill, I noticed P. Don, the famous rickshaw driver of Kho San Road, park his purple pimped out rickshaw right in front of Mai's restaurant. We'd seen P. Don peddling his rickshaw around town for days, with the flags waving and boom box blaring cool Asian fusion music. I went over and asked him if he could give us a ride to the water taxi and he agreed.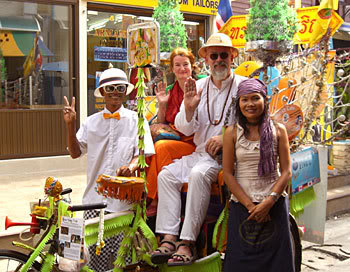 After paying the bill, Tara and I mounted our trusty chariot and I announced to the crowd, "We're off to India. It's been wonderful dining with all of you beautiful people at Mai Kaidee's, the best vegetarian restaurant in Bangkok. May you all experience health, happiness and fulfillment." Mai exploded in glee, yelled,"Photo, photo," and ran over to get in the picture. After a few snaps, our trusty charioteer maneuvered through the streets and dropped us off at the river taxi for our final afternoon of sightseeing before returning to India.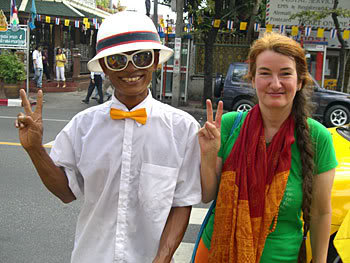 Here's a recommendation from someone who loves Mai's as much as we do.
"I'll never forget my first few hours in Bangkok. our first stop, at andrew's recommendation, was may kaidee's lovely restaurant for the best vegetarian food in banglampu. every time i am in Bangkok i head straight for may's place for that delicious black sticky rice with coconut milk, mango, banana and sesame seeds. in the evening nothing beats the massaman curry. My last night in Bangkok, i was sitting having a delightful conversation about thai massage with a women from holland. we were laughing hysterically because everyone in the restaurant in that moment, including the two of us, was eating that incredible massaman with brown rice. and there is barely room to describe the spring rolls!! Throughout my travels in southeast asia, i ALWAYS recommended May's restaurant to anyone i knew to be visiting Bangkok six months later, i am still in touch with Catherine and just last night i had dinner in berkeley (yellow curry) with another wonderful man, named stephen, who i met sitting across from me at may kaidee's. extraordinary food in a wonderful setting (a Bangkok alley), great conversation and good friends to boot. honestly can't be beat!!
08-06-02 by Scott from san francisco
Mai's website address is http://www.maykaidee.com. We love Mai. Can you tell?